This blog is number five in a series focused on building authentic leadership. In this post we will explore how understanding the culture and systems along with your own self awareness supports your ability to lead authentically and how it can inhibit your success if it is not attended to.
Situational analysis is the process by which you use self-awareness and organizational understanding to determine how to behave authentically and effectively. You analyze with the intent of creating alignment between self and the organization—which can often be quite a balancing act. In some cases you may not have a clear sense of yourself, and in other situations the your preference are not aligned with the organization's culture or expectations.
I recently conducted a workshop with a client who used the situational analysis framework to address a very complex issue in a large family owned business. The organization, like many, is trying to balance cutting an employee benefit in an effort to retain service levels while minimizing the impact on employee morale, engagement, and organizational culture. This is a company has a very strong commitment to service, which includes caring for its employees. In a highly respected organization with a goal of maintaining low overhead, these benefits impact overall organizational performance and—if not managed carefully—can have a negative financial impact on the organization.
During the workshop, the entire leadership team answered a set of eight questions in four categories to encourage an open discussion to help them align their personal beliefs, personal behaviors, organizational culture, and organizational systems in addressing these issues and make a sound decision.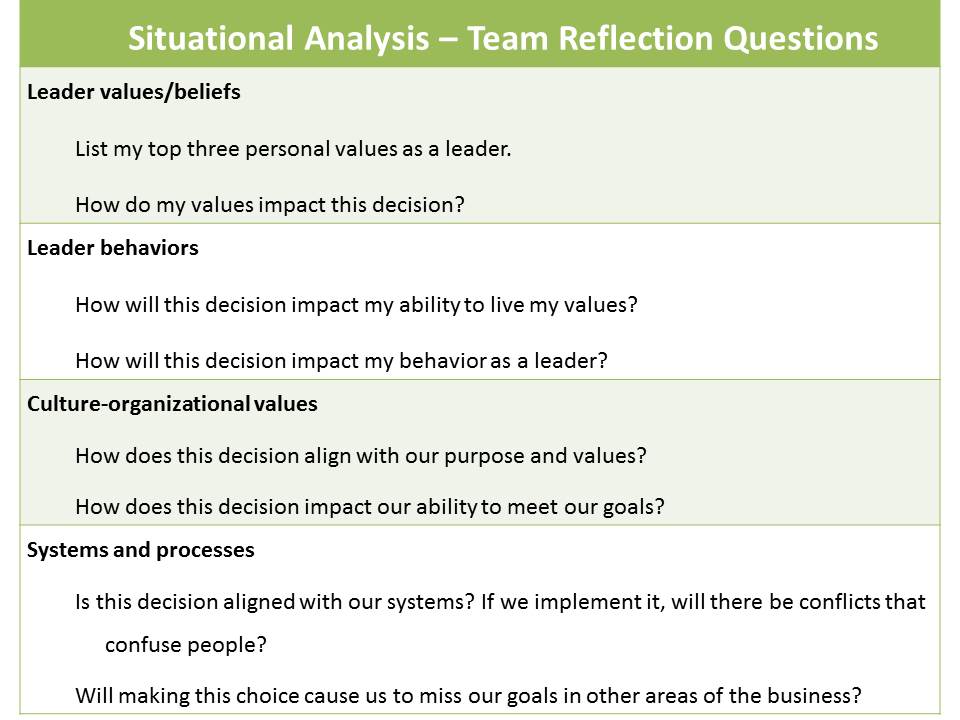 Using these questions as the foundation, the leadership team explored the pros and cons of their cost-cutting decision. In addition to addressing this specific complex issue, they also adopted this approach to addressing other issues.
So, what does this have to do with authentic leadership? Leaders must be self-aware and genuine. The first two sets of questions in the table help you discuss your personal values in an organizational setting and explore how those values impact tough decisions. You they talk about how your values align with the behavior required to adopt the change. This approach is very valuable when balancing personal values and organizational requirements. Leaders often find their values in conflict with organizational expectations and they are compelled to choose between two undesirable options: violating their values, or making decisions that are opposed to the organization's goals.
While there is no easy solution to the complex problems organizations are facing, we believe this approach to exploring challenges candidly and discussing personal beliefs and values, individual actions, organizational culture, and organizational systems creates shared support for decisions and provides a powerful platform for open dialogue about complex issues. Because it takes into account values along with fiscal accountability, it builds trust among leaders that the process is ethical. It also allows you an open forum to discuss differing points of view and, at the same time, develop a better understanding of others.
As authentic leaders in a complex environment, we are continually making difficult decisions. This approach to decision making can help think through the challenges and ask the questions that allow us to remain authentic and ethical, and still make the tough decisions required for the organization to survive and thrive. As the broader organization begins to understand and trust this process, they will also build the skills to be authentic in their leadership and build a culture of authenticity.
To become a more innovative leader, you can begin by taking our free leadership assessments and then enrolling in our online leadership development program.
Check out the companion interview and past episodes of Innovating Leadership, Co-creating Our Future, via iTunes, TuneIn, Stitcher, Spotify, Amazon Music, Audible,  iHeartRADIO, and NPR One.  Stay up-to-date on new shows airing by following the Innovative Leadership Institute LinkedIn.
If you are interested in receiving our ongoing blog series or other articles by email, please sign up in the box on the right labeled Get Email Updates From Us.
Photo credit: www.flickr.com pink sherbet photography
https://www.innovativeleadershipinstitute.com/wp-content/uploads/2015/06/Balance-2-cc-pink-sherbert-photography.jpg
469
1024
Maureen Metcalf
https://www.innovativeleadershipinstitute.com/wp-content/uploads/2018/10/logo.png
Maureen Metcalf
2015-06-16 10:03:26
2021-04-27 23:42:40
Balancing Authenticity with Organizational Expectations